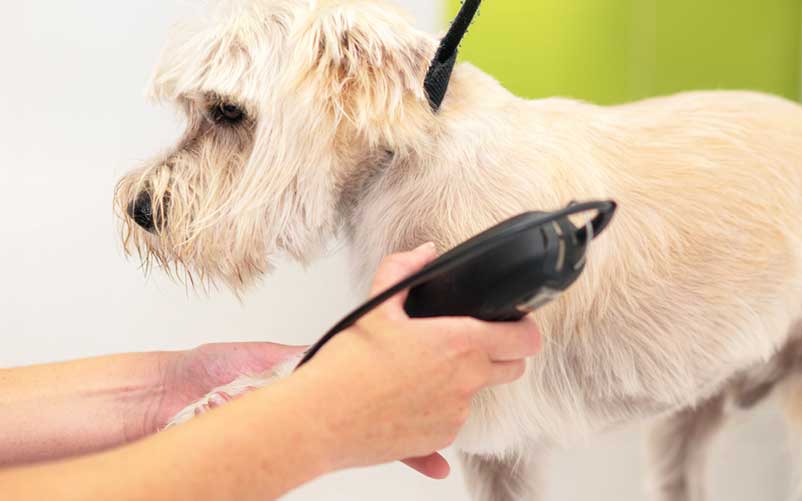 We'd all love it if we could get our dogs professionally groomed on a regular basis. However, professional dog grooming could be expensive and time-consuming. This is especially true if you have a high-maintenance breed like a Poodle, Shih Tzu, Cocker Spaniel, or Bichon Frise. Thankfully, you can now easily groom your dog at home using some of the best professional grooming clippers.
Choosing the right dog clipper can be a challenge since there are so many different types available, with different features and from different brands. Fortunately, there are just a few simple things you need to consider to make sure you're getting the right clipper for your needs.
It can be overwhelming but we're here to help! Read through our tips and recommendations below to find the clipper that's best suited for you and your dog.
Best Professional Dog Grooming Clippers Reviews
1. Andis Super AGR+ Detachable Blade Rechargeable Clipper
The Super AGR+ by Andis is a 1.10-pound, cordless clipper made of a break-resistant polymer with contours for comfort. Its heavy-duty rotary motor allows it to run at 3,800 strokes per minute. It is powerful enough to manage thick hair yet silent enough to minimize anxiety among skittish dogs.
This clipper's detachable blade feature allows for stress-free cleaning. It also allows you to easily swap with other blades you might decide to purchase in the future. This may include other blades that the Andis brand supplies as well as Oster A5 blades, which are all compatible with the Super AGR+.
This Andis clipper has a removable battery for charging separately from the main unit. This means you can groom all day long if you buy an extra battery and simply keep one charging at all times. Charging time is 1 hour and continuous run time is an hour as well.
Each purchase comes with the main clipper unit equipped with a #10 CeramicEdge detachable blade, a charging cradle called the Sensa Charge Charging System, a bottle of blade oil, and a hard case.
Things We Liked
Cordless for easy grooming at all angles.
1 hour continuous run time and 1 hour recharging time.
Rust-resistant and heat-minimizing CeramicEdge blade.
Detachable blade for easy cleaning and swapping.
Things We Didn't Like
It's heavier than most at 1.10 pounds but that shouldn't be a problem if you're only home grooming and not clipping fur all day.
Guard combs aren't included. However, the unit can work with any standard guard comb attachment.
2. Andis Excel 5-Speed+ Detachable Blade Clipper
The Excel 5-Speed+ is another winner by Andis. Although this one has a cord, it offers more versatility because of its 5-speed feature. It can go as low as 2,500 strokes per minute for clipping around sensitive areas and as high as 4,500 strokes per minute for grooming most of the body. High speeds are especially useful for large dogs with thick coats.
Unlike the AGR+, this professional-grade clipper offers an anti-slip housing with a soft grip and weighs only .80 pounds. It comes in four different colors including Indigo Blue, Plum Purple, Fuchsia, and Spring Green.
The Andis Excel 5-Speed+ comes with a #10 CeramicEdge blade and a tube of blade oil. Like the AGR+, the blades are detachable not only for easy cleaning but also for easy swapping with one of the many other blades the unit is compatible with. These include all Andis UltraEdge, CeramicEdge, and ShowEdge blades as well as all Oster A5 blades.
Things We Liked
5 speeds to cover various grooming requirements.
Contoured, soft grip makes it easy to handle.
Variety of colors allows for a hip, personal choice.
Rotating motor is powerful yet relatively silent.
Compatible with many other blades.
Things We Didn't Like
It's corded. However, the cord is 14 feet long so it might not be a huge hindrance.
3. Wahl Professional Bravura Lithium
The Bravura Lithium by Wahl Professional is a lightweight clipper at 0.55 pounds. It allows you to choose between cordless or corded and it comes in five different colors including Turquoise, Berry, Purple, Pink, and Gunmetal.
This 1-speed clipper features a rotary motor that runs at 5,500 strokes per minute. Unlike many other clippers that rely on NiMH batteries, this uses a Lithium-Ion battery that minimizes loss in battery capacity over time. The powerful battery takes 60 minutes to recharge and allows for a continuous cordless run time of 90 minutes.
Each kit comes with the main unit, a 5-in-1 blade set, a charge stand with charger, 6 plastic attachment guide combs, a cleaning brush, some blade oil, a manual, and a storage bag.
Things We Liked
Lightweight at 0.55 pounds.
Silent to minimize anxiety among skittish dogs.
5-in-1 fine blade set lets you easily shift between #9, #10, #15, #30, and #40 cut lengths.
6 included guide combs help you get clean trims from 1/8-inch to 1-inch lengths.
For use either with or without a cord.
90-minute continuous cordless run time and only 60-minute recharge time.
Things We Didn't Like
Battery isn't removable but is replaceable by an accredited service center.
4. Wahl Professional Arco
The Arco cordless clipper by Wahl Professional is extremely lightweight at 0.49 pounds. It has a rotating motor that allows it to cut at up to 5,500 strokes per minute. Additionally, it features Wahl's proprietary 5-in-1 blade which allows you to easily adjust between sizes #9, #10, #15, #30, and #40.
With this clipper, you have 4 fun colors to choose from. These include Champagne, Purple, Radiant Pink, and Green Apple. Its removable batteries charge for 75 minutes and offer a continuous run time of 80 minutes.
The Arco kit comes with the main cordless clipper, the 5-in-1 fine blade, 2 NiMH battery packs, a charging stand with charger, 4 guide combs, a cleaning brush, some blade oil, an owner's manual, and a storage bag.
Things We Liked
Lightweight at 0.49 pounds
5-in-1 fine blade lets you have all the sizes you need in one unit.
4 included attachment guide combs allow for clean grooming for 1/8-inch to ½-inch lengths.
80-minute continuous run time per battery pack and recharge time of 75 minutes.
Things We Didn't Like
Single speed and fine blade aren't great for shaving thick fur or long hair but ideal for finishing work, legs, face, and ears.
5. Oster Golden A5 2-Speed Clipper
The Golden A5 2-Speed Clipper by Oster is a heavy-duty, general-purpose grooming tool. It handles any coat type and any grooming requirement from general shaving to precision clipping. Its rotary motor allows it to run at either 2,100 or 2,700 strokes per minute. While this clipper has a cord, it is 12 feet long so it isn't so restricting.
This groomer comes with a detachable #10 blade, which clips at 3/32-inch hair length. The blades benefit from Oster's Cryogen-X technology, which guarantees durability. While this only comes with one blade, it is compatible with all other Oster A5 detachable blades.
Things We Liked
Sturdy housing is chew-proof and virtually unbreakable.
2 speeds allow you to shift from full body grooming to precision clipping with a flick of a switch.
Oster Cryogen-X blades guarantee durability and long-lasting performance.
Things We Didn't Like
Pretty heavy at 1.97 pounds but this shouldn't be a problem if you aren't grooming dogs all day long.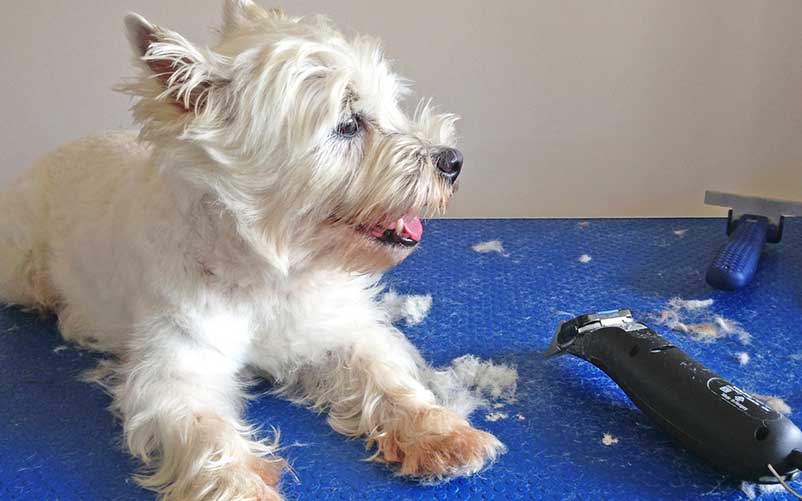 How to Choose a Dog Grooming Clipper
Successful home grooming starts with choosing the right tool not just for your dog but for you as well. Don't just choose one based on the number of ratings you find online. More importantly, don't just choose one based on price. In general, your most important considerations should be:
Speed
Dog grooming clippers come in single-speed or multi-speed. Faster speeds are important for general shaving and dealing with thick, matted fur. On the other hand, slower speeds are useful for precision trimming around the face, legs, and tail. Because different grooming requirements call for different speeds, we recommend getting a multi-speed clipper.
Weight
Believe it or not, even a few ounces can make a huge difference in your comfort. This is especially true if you have a very large dog or one that has very delicate grooming requirements. The heavier your clipper, the sooner your arms will tire. Tired arms may lead to sloppy grooming. That's why we always recommend lightweight clippers.
Blade
As you get used to grooming your own dog, you'll find that different areas are better clipped using different blades. When choosing a clipper for home grooming, look for one with detachable blades. This gives you the opportunity to easily rotate between different blade types later on. Also, try to find clippers with ceramic blades because these are typically sharper and more durable.
Cord
Having a cord can be inconvenient. However, cordless clippers require you to fuss over battery life and charging times. Luckily, there are clippers that allow both corded and cordless use. Use the cord when grooming larger areas with thick fur and shift to cordless when working on the tighter areas like the legs or belly.
Noise
It doesn't sound like much but the sound produced by the clippers' vibration could cause a lot of anxiety, especially among skittish dogs. Look for clippers that with rotary motors instead of magnetic ones. That typically guarantees minimal noise.
Why You Should Choose Professional Dog Clippers
There are so many regular dog clippers available for sale. Many of them may even have very good reviews. It might be tempting to buy just a regular dog clipper because of the price. It might even be tempting to buy a clipper made for humans simply because they are so much cheaper. However, doing that will just cost you more in the long run.
Even the best clippers made for humans won't be able to handle dogs' thick, dense fur. While they may seem to do the trick in the beginning, they'll quickly dull or overheat. Also, human clippers are noisy and cause anxiety in dogs.
Regular dog clippers are a better choice than human clippers but they may not be the best in terms of value for money. While professional dog grooming clippers may cost more to purchase, you're guaranteed safety, reliability, durability, and comfort.
How to Lengthen the Life of Your Professional Clipper
Just because you chose a professional product that guarantees durability, it doesn't mean that you don't have to take care of them. Your clippers will only last long with proper maintenance. Thankfully, it doesn't take too much effort to take care of your clippers.
Clean after every use
After every home grooming session, remove the blade from the clipper and brush off any remaining fur. You may also opt to use a blade wash to remove any oils or dirt that has coated the blade.
Lubricate regularly
Place a few drops of clipper oil on your clipper's blade after every wash. Also, do this on a regular basis if your clipper is just sitting in storage. Regularly lubricating your blades will help keep them sharp for a long time.
Use a Coolant
There are blades that get hot when in use. This could cause your dog a lot of discomforts and it could also cause your blades to wear out very quickly. If you have this problem, use a blade coolant. These are specially-made liquids that are sprayed onto the blade to keep them from getting too hot. Some clipper coolants double as lubricants as well.
How to Start Grooming Your Dog
If you've never done home grooming before, there are things you'll need to do to make sure both you and your dog are well prepared.
Get your dog used to the clipper.
Once you've purchased a clipper, expose your dog to it and ease their fears. They need to understand that the clipper won't hurt them. Start by holding it against their body and praise them for not pulling away. Then, turn the unit on and do the same. This might take a few sessions but you'll know your dog is ready for grooming when they don't pull away from the touch of a vibrating clipper.
Give your dog a bath.
A full bath ensures that your dog is thoroughly clean. What good is a properly shaved dog when it is smelly and unclean? Clipping through clean fur also helps keep your blades sharp.
Brush out your dog's fur.
This is a very important step. Brushing out your dog's fur not only makes it easy but also safe for you to start clipping. It also helps get rid of excess fur that's already shed. Lastly, it helps ensure a smooth finish.
Cut off mats and other knots.
While brushing out your dog's fur, you'll notice if there are any tangles and mats. Use a pair of scissors to cut those off before using a clipper. If you don't, you risk getting those knots stuck in the blades, hurting your dog, and ruining your clippers.
Start clipping the body.
Once your dog is properly prepped, you may start clipping the fur on the body. Generally, we recommend for you to clip along the direction of hair growth to help achieve a smooth and natural-looking shave. This is also where a higher speed setting would be most useful.
Trim more delicate areas.
Using a slower setting, trim the ears, face, legs, and tail. For the face, make sure you avoid the whiskers as cutting those off may cause your dog some great distress.
Praise or treat your dog.
Once you're done clipping all parts of the body, that's it! Praise your dog and reward them for being well-behaved. That will ease their anxiety and also give them something to look forward to on your next home grooming session.
So What is the Best Dog Clipper for Professional?
Among the best professional dog grooming clippers, our favorite is definitely the Wahl Professional Bravura Lithium. Apart from the fact that it's so reasonably priced, it has a good balance of everything we're looking for.
Although it's a single-speed, this clipper from Wahl has a quiet rotary motor that allows it to run at up to 5,500 spm. That makes it suitable for both general grooming and finishing tasks. It is lightweight at 0.55 pounds and functions both corded and cordless. It comes ready with Wahl's 5-in-1 fine blade set, which already allows for a wide variety of cut lengths.
As an added bonus, there are different fun colors to choose from and it also comes with 6 guide combs in varying lengths. With such a complete kit, it's suitable for all sorts of grooming requirements. Both novices and expert groomers alike will take a while to outgrow this kit.