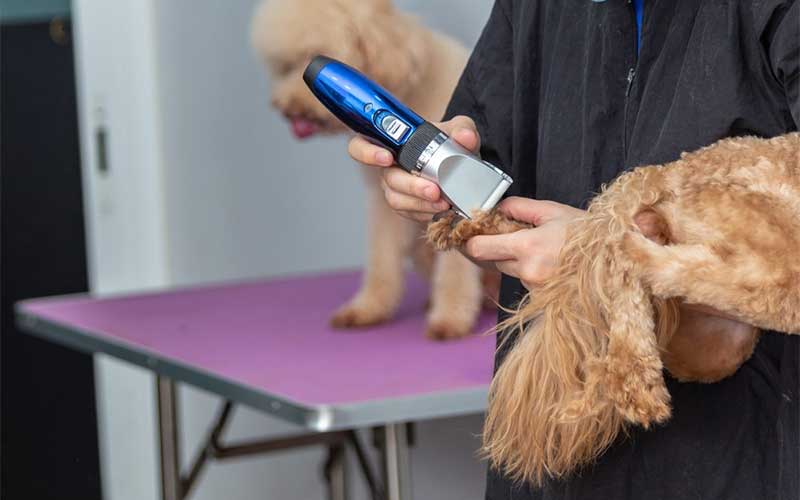 One of the most lovable breeds in the world for a very long time, poodles are praised for their curly feature and their cute appearance. However, maintaining those beautiful locks can take a lot of pressure both for home groomers and professional ones.
This is why you may be looking for the best dog clippers for poodles. In this article, we cover some suggestions for clippers that you can use for your poodle, as well as tips on grooming them.
Best Poodle Clippers Reviews
We chose the following for the best dog clippers for poodles:
1. Andis UltraEdge AGC2 Blade Clipper
We chose this clipper for your poodle because it has a 2-speed design, which makes it applicable for both the body and the face for trimming. You can use the lower speed for the parts of your dog that are sensitive, such as their paws. What's more, since it runs quietly and cool, it can be friendly to those who are new to pet grooming or using a clipper.
Since it has a detachable blade design, you can interchange it with different blades on the go. We like this fact since handling any poodle can require you to have different cuts for the different parts of their body, such as their face, ears, and feet. It also allows you to work quickly for your dog.
Featuring its two-speed rotary motor, you can choose between 3400 SPM and 4400 SPM so it can be quite a heavy-duty unit. And that's not all – we also like its shatter-proof housing, which can be helpful for its durability. Likewise, you also have different colors to choose from for this clipper.
Don't know what to do with your Oster A-5 blades? Don't worry – they can fit into this dog clipper just fine. It comes with the Ultra Edge and Ceramic Edge blades that are ready for you to use – both durable and cool-running at the same time. Since it is a corded unit, it comes with an extended 14′ heavy-duty cord to keep you at ease while grooming.
ADVANTAGES
2 speeds are available
Different unit colors to choose from
Runs cool and quietly
Interchangeable and detachable blades
14-foot cord
SHORTCOMINGS
Runs only on 120V systems
Overall, the Andis UltraEdge AGC2 Blade Clipper can be a great grooming tool for your poodle for those who want a 2-speed clipper.
2. Wahl Professional Animal Pro Ion Pet Clipper #9705
Guide combs can be a helpful set of tools for grooming your pet – and they come along with this set (hey, that rhymes!). You get not only a powerful clipper at hand but you also get color-coded guide combs so you don't have to worry about getting an even trim or shave for your poodle.
And that's not all – since this unit is cordless, you can take it with you on a vacation and not have to worry about looking for a socket to plug it into (unless you need to charge it). The clipper comes with a generous 2 hours of cordless run time, which can be sufficient for on-the-go trimming or grooming for your pet. What's more, we saw that it has a lithium-ion battery, which has no memory effect so it can hold a longer and more efficient charge.
With up to 6,000 strokes per minute, this one can be a powerhouse especially if we're talking about handling poodle hair. Using its included #30-15-10 adjustable blade, you can just adjust on the fly the kind of blade that you want to use for your poodle's grooming session. And since it is lightweight 10.2 oz., you probably won't have fatigue or arthritis afterward.
What we also like is the 15-minute quick charge feature for when you're in a hurry. Included in the set are a cleaning brush and blade oil for you to keep your blades in tip-top shape. We also saw some stainless steel scissors and a styling comb to add up to your arsenal, all fitting inside a storage case along with the charging cord. Also, you even get an instructional DVD!
ADVANTAGES
Comes with guide combs
Ideal for travel use
Cordless and lightweight
Adjustable blade
15-minute quick charge feature
SHORTCOMINGS
If you want to groom your pet with a clipper that comes with guide combs, you can try the Wahl Professional Animal Pro Ion Pet Clipper #9705.
3. Wahl Professional Animal Bravura Clipper Corded / Cordless Clipper Kit
Yet another well-known clipper from Wahl, this one can be ideal for subtle body clipping on small and medium dog breeds, which means it can most likely work for poodles. Since it is only at 8.8 ounces, you can carry it around and not have to worry about strained wrists or arms. We like the fact that its blades are so sensitive that you can use it for the face and paws of your dog.
Check this out – the unit is ergonomically designed so that you can rest easy while you are doing the task of grooming your pet. With its lithium-ion battery, keeping the battery charged even while not in use can be a breeze. What's more, you can adjust the 5-in-1 clipper blades from #9 to #40, which can be ideal for the smaller portions of your pet.
Since it is made with high-grade steel and runs up to 5,500 SPM, it can be a heavy-duty type poodle clipper with good durability. And that's not all – it even has up to 90 minutes of runtime for you to use. It comes in a storage case as well as with blade oil and cleaning brush for you to maintain your clipper blades. You can also read its instruction book if you don't know how to operate it at first.
Another feature that we liked is the constant speed control, which can help stabilize those who are new to pet grooming. You can use it for either cordless and corded operation and it can work well for dogs with matted coats due to the heavy-duty design: the blade is German-made while the clipper body is Hungary-made.
ADVANTAGES
Corded and cordless
Lightweight
5-in-1 blade
Up to 90 minutes runtime
Constant speed control
SHORTCOMINGS
For those who want a lightweight clipper, you can count on the Wahl Professional Animal Bravura Clipper for that.
4. Andis ProClip Speed Detachable Blade Clipper
If you prefer corded clippers for their unlimited power, you might like this one. Because of its detachable blades, you can interchange your preferred blade, although it has a #10 blade included for you to get started. This means that you can prepare a haircut for your poodle in however way that you want, so long as the blade fits.
We also found out that it is a 2-speed blade clipper, which can run from 2,700 SPM to 3,400 SPM so it can be used for smaller spaces, such as on your dog's face hair, rump, ears, and paws. Since it has a 2-speed rotary motor, it can be a heavy-duty machine to work with for both salon owners and those at home grooming their dog.
It doesn't end there – since it is corded, we saw that the extra-long 14' heavy-duty cord won't have a lot of problems when you are going around your poodle. It is also cool-running such that you don't need to take frequent brakes (compared to other brands) to get your poodle's thick and matted fur or coat well-groomed. Plus, it also doesn't make much noise and doesn't get too hot as many have tested it.
ADVANTAGES
Heavy-duty
2-speed
cool-running
SHORTCOMINGS
Doesn't come with a carry bag
A bit on the heavier side
As a whole, we think that you might like the Andis ProClip Speed Detachable Blade Clipper if you are looking for a corded dog clipper.
5. Pet Union Professional Dog Grooming Kit
Since toy poodles and mini poodles don't need a lot of effort to groom as compared to regular-sized poodles, you can try using this one. Because this one is cordless, it is easy to use around dogs who tend to wiggle around and can be difficult to groom. Also, since its blades were designed to have no snagging whatsoever, even beginners can work with this dog clipper.
We also like the fact that it has low noise so your dog won't have to be scared as compared with other motors. If you just prefer a dog clipper that isn't too heavy duty and will just do the job, you can try this one, especially if your poodle does seem scared of grooming.
What's more, it includes extras such as 2 scissors and 4 guide combs for you to complete your grooming arsenal for your dog. You can also use the included styling comb to help you get the right length for your poodle. Truly, this one can be ideal for dogs with grooming anxiety since it doesn't vibrate a lot, either. Other accessories are also included while the whole unit is backed by a lifetime replacement guarantee.
ADVANTAGES
Ideal for toy and mini poodles
No snagging
Comes with guide combs
Low noise levels
Lifetime replacement guarantee
SHORTCOMINGS
May not work for very thick coats
If you want a dog clipper for poodles with grooming anxiety, you can try the Pet Union Professional Dog Grooming Kit since it has low noise.
Tips for grooming your poodles
So, if you are new to grooming your poodle, here are a couple of tips you might want to know about:
Prepare a lot of time to groom your dog.
This is because poodles grow their hair faster than most dogs do – especially during the winter since they need protection. A regular grooming schedule can keep their shedding to a minimum.
Brush your poodle daily or as much as possible.
Poodles do get their coats tangled and matted most of the time due to being curly and all. This is why daily brushing can help a lot and is required before you clip their coat to avoid ruining your clipper.
Choose a look that matches the weather.
Your poodle can benefit more from their coat if they were trimmed or clipped in the right length whether it's for the summer for the winter. Nonetheless, most owners prefer the classic teddy bear clip or the kennel clip as a regular look.
Factors to Look For in poodle clippers
When choosing the best poodle clipper, you should consider the following:
Noise levels.
We think that a poodle clipper works best if it is not too noisy to distract or make your dog panic. After all, some dogs do develop grooming anxiety when faced with a loud motor.
Speeds.
Most grooming clippers have 1 to 2 speeds depending on your needs. For poodles, having two speeds can be a plus point because it allows you to finely trim the ears and paws of your dog without the likelihood of injury and your dog getting anxious.
Interchangeable blades.
Having interchangeable blades can be helpful if you want to quickly finish your dog's grooming session, especially if you have either a busy schedule or an impatient poodle. Interchangeable blades can be adjusted with a mechanism that looks like a lever to adjust its cutting length to the one that you desire. This means that you can make any kind of look for your dog – summer or winter coat.
Corded or cordless operation.
Think about where and when you will use the dog clipper. Do you prefer to travel with it? Go with a cordless one. Do you prefer a heavy-duty clipper that has unlimited power? Go with the corded one. Can't fit between both of these situations? Try a clipper that is both corded and cordless.
Warranty.
We think that the warranty policy can be helpful to know about in case the clipper that comes delivered to your doorstep gets broken beforehand.
Ergonomics.
It should be easy to hold and ideal even for those who tend to have sweaty or slippery hands. After all, any grooming tool should be easily and safely handled to avoid accidents for you and your dog.
Q&A
Want to know more about poodles and grooming them? If you have questions regarding dog clippers for poodles, we'll try to answer some of them below:
Question: How often do standard poodles need grooming?
Answer: Usually, a standard poodle requires to be groomed every 3-6 weeks with a daily brushing routine. This is because poodles get matted coats more easily than many other breeds due to the nature of their hair.
Question: What are the best dog clippers for poodles?
Answer: For poodles, we'd prefer a high-powered clipper such as the Andis UltraEdge AGC2 which has 2 speeds because grooming poodles usually need a lot of work due to their thick coats. And since it is a corded unit, you can work endlessly with power.
Question: What size blade dog clippers for poodles?
Answer: Most poodle owners and pet salon groomers will tell you that the blades in size #10, #5, and #7F can be ideal for poodles. Don't fret – many clippers we featured here can fit the #10 blade just fine.
Question: What to use for grooming poodles face?
Answer: For face trimming, we'd recommend you to use the #30 blade for your clipper, which is one of the finest ones to use for competition dogs. However, if your poodle isn't a competition dog, you can just try the #10 or the #9 blade.
Question: What clipper attachment should be used for poodles in winter?
Answer: Most pet owners will recommend a #5 or a #5F to give your poodle a kennel cut. This is because wintertime is the time poodles do tend to grow their coat faster due to the need to protect themselves from the weather.
Question: Are poodles cooler when their coat is clipped?
Answer: It can give your poodle a bit more coolness when you give them a summer cut. But that's not all – it also helps the owners to clean them up easier. Having a long coat in the middle of the sun and getting exposed to all kinds of dirt and debris (since they're always outdoors) can be an inconvenience.
Question: How long to keep toy poodles coat in winter
Answer: Toy poodles, much like other poodles, can keep their winter coat for as long as there's coldness outdoors. If you do accidentally shaved them too short, you may need to wrap them with a cloth to keep them warm.
Conclusion
In the long run, keeping a poodle healthy and strong also relies on maintaining their grooming habits, which includes using a reliable set of clippers for them. The clippers should be able to withstand these (often) golden locks of your dog.
Whether you work in a grooming shop or just want to DIY groom your pet at home, it's important that poodles get the right hairstyle for their needs, their lifestyle, and depending on the weather outdoors.