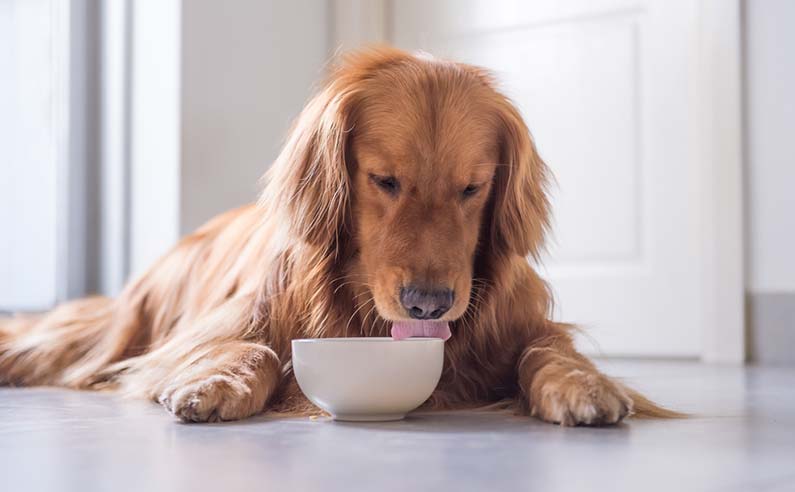 Kibble is usually the most convenient type of dog food to feed your buddy, but is it really the healthiest for them? The truth is that, like human beings, dogs need a little bit of soup for their meal.
Dogs need moisture, and that moisture comes from wet food. This is where you may be looking for wet dog food to mix with dry.
There are many benefits to having a wet dog food mixed with your dog's dry food, such as adding moisture to their food for easier digestion, which makes feeding time much simpler, especially if your dog has a sensitive tummy.
Another plus point is that wet dog food is usually ideal for seniors and pups that can't digest food properly as adults can. Although wet dog food can expire faster than dry dog food, they can be a nutritious source of protein and the like.
Dry and wet food can also have a good effect on your dog's skin and coat since it adds moisture to their food. This is especially a benefit if your dog has a long coat or an undercoat that needs to be maintained properly.
While it's good to stock up on kibble, it can also be a great alternative if you add wet dog food to their daily portions.
Best Wet Dog Food To Mix With Dry Food
Here are our top picks for wet dog food to mix with dry:
Blue Buffalo Homestyle Recipe Natural Senior Wet Dog Food
This wet dog food, made for seniors, is made with chicken dinner (as the main ingredient) and garden veggies so it can be a healthy combination of protein and nutrients, as well as antioxidants. Each can has 12.5 ounces and this wet food can be mixed with any dry dog food. Since it contains no artificial flavors or preservatives, it can be a healthy alternative to commercial food.
It has no corn or wheat so it can be great for dogs that have sensitivities with simple grains. Also not containing by-product meals, the manufacturer ensures that chicken is the first ingredient for a good protein source. The protein can be ideal for dogs that need muscle development or those dogs that are often active outdoors.
Among the included ingredients are carrots, sweet potatoes, and peas – all ideal ingredients for a dog's nutrition. This wet dog food has a complex carbohydrate (sweet potatoes) as an alternative to simple grain for easy digestion.
Key Features
Made without artificial flavors or preservatives
Contains sweet potato as the carbohydrate source
Chicken is the first ingredient (no by-product meals)
No corn or wheat (for sensitive dogs)
Contains veggies for a balanced diet
Purina Beneful Chopped Blends Adult Wet Dog Food Variety Pack
If your dog enjoys the taste of a variety of veggies and protein sources then this wet dog food can be for them. Each pack has 12 tubs at 10 ounces each. It can be ideal for adult dogs and it has tender meat pieces that are easy to digest for your dog.
Since the pouches are resealable, you can just pack them up when you don't need them anymore. It can be used as a topper, on its own, or even as a snack. Each pack has 23 essential vitamins, which can help your dog maintain a healthy diet.
Added to that, it has veggies that will make their meal colorful and nutritious at the same time. It also has no added sugar so it won't be detrimental to dogs that have a bigger risk for diabetes. It is also made in the USA for quality and has no artificial flavorings or colors that aren't helpful for your dog's health. The minerals included can also be helpful for boosting your dog's immune system.
Key Features
The pouches can be resealed
Has tender meat pieces
It has veggies for added nutrients
No added sugar
Has minerals for your dog's immune system
Pedigree Choice Cuts In Gravy
As a known brand, this wet food topper is made with real beef and has a steak and veggie flavor. Each can is at 13 ounces and is ideal for adult dogs. The wet food for dogs has veggies that serve as a source of nutrients and antioxidants to support your dog's immune system.
It also has a soft texture so that your dog's appetite can be enhanced, especially if they aren't touching their kibble a lot. With a sufficient amount of crude protein and fat, it also has moisture to help support your dog's coat healthy and to make food easier for them to digest.
The veggies included are green beans and carrots, which are a staple in most dog food nowadays. The canned wet food is also not that pricey so it can be ideal for dog owners that are trying to save up. There are also variations of this canned dog food, such as beef, chicken, stew, lamb, rib and bacon, and rice meals.
Key Features
Has vegetables such as green beans and carrots for a balanced meal
Sufficient moisture to help easy digestion for your dog
Ideal for adult dogs
Budget-friendly for dog owners
Soft texture that is easy to chew and digest
Royal Canin Canine Health Nutrition Dog Food
If your dog needs a little boost for their coat health, this can be decent dog food for them. It is made specifically for dogs that have a long coat or need to have a healthier coat due to its omega-6 fatty acids, which can be beneficial to their skin and coat texture. It also has B-vitamins and amino acids for improving their skin quality.
Royal Canin is a trusted brand when it comes down to dog food, so it can be worth a try. The dog food is okay to be used for dogs 10 months and older and weighs up to 22 lbs. Dogs that can benefit from this food include Shih Tzu and the Miniature Schnauzer.
When you order, you get a total of 24 cans at 3.5 ounces each so you can have a decent supply for your dog. It has chicken as the source of protein and the texture makes it easy to break into smaller chunks for toy breeds.
Key Features
Ideal for small and toy breeds
Best for dogs with coat health concerns and skin problems
Has amino acid for skin health
Chicken is the source of protein
Easy to break down into smaller chunks
Tiki Dog Gourmet Whole Foods with Real Shredded Meat
While it is a lesser-known brand of dog food, this one has brown rice and carrots, which can be sufficient sources of energy for your dog. Brown rice can be an alternative grain and carbohydrate source for your dog, especially if they are active and they need something that is easy to digest.
Each can of wet food has a mix of real meat, depending on your choice of meat, such as tuna, chicken, crab, seafood, or prawn. Aside from that, your dog can also get kale, which can be an ideal veggie for them as well. Each can is at 14 ounces and if your dog likes to eat fish, this can be an option for them, especially if they like tuna.
Dogs such as Golden Retrievers and even smaller dogs such as the Chihuahua can find it tasty and rich-smelling. This also means that it is ideal for different dog breeds. Since the dog food was tested and certified for human consumption, this means that it has a very high quality of food content for dogs.
Key Features
Choices of seafood meat or tuna
Ideal for various dog breeds
Certified for human consumption (high-quality meat and ingredients)
Has veggies for a balanced meal
Rich-smelling ingredients
Things to Consider
Before buying and choosing wet dog food to mix with dry food, here are some pointers:
Is it safe to mix wet dog food to mix with dry food?
Yes! Mixing dry and wet food is okay as long as they are both fresh or at least not expired. Many wet foods for dogs nowadays in the market can work well as a food topper or on their own.
Dogs can lose their appetite if you only keep on feeding them kibble all the time. They can also lose a significant amount of moisture from their bodies, which can lead to a less healthy coat and skin. Therefore, by adding wet food on top of (or mixed with) their kibble, it can help your dog to digest their food easier and also have added interest to their dog food.
How do I choose wet dog food to mix with dry food?
Here are tips on choosing an ideal wet topper for your dog's meal:
Choose quality ingredients. Consider quality meat such as chicken or even fish because they are the ones that have a lot of protein content in them. Wet dog food that's made in the USA is likely to have fresh meat ingredients without by-products.
Avoid too many fillers. Choose dog foods that don't have artificial flavorings, colors, and the like, as well as added fillers. You want to make sure that your dog only gets nutritious food.
Add in some vegetables. Look for dog foods that have peas, carrots, and the like, since they are commonly found in dog food and are nutritious for your pet. They are easy to digest and can also help dogs that have digestive problems.
They can also have antioxidants, which can benefit your dog's overall health in the long run. By having veggies, you aren't limiting your dog's diet to only meat.
Make sure it's easy to break down. Usually, wet dog food comes in cans or even small square containers. It's best to buy wet dog food that is easy to break down into chunks so that your dog will be able to digest or eat it up easily.
Mixing portions of wet and dry dog food
Mixing wet and dry dog food depends on the amount of dry food that you have. The general rule is that for every 1/4 cup of dry dog food, add at least 3 ounces of wet food.
However, you can also experiment depending on your dog's preferences and even their vet's recommendations for their diet, since some dogs may need more wet food for special needs, such as lack of moisture or skin and coat problems.
Storing wet dog food
Wet dog food is more likely to get spoiled than kibble and that's why most owners don't always buy or stock up on it. To store your wet dog food if there are leftovers, make sure it is kept in the fridge from 40 to 45°F (4 to 7°C) up to about 7 days before it is considered spoiled.
If the dog food was left opened or exposed to temperatures of about 50 degrees F or more, it should be consumed within 4 hours before spoiling.
To avoid food spoilage, consider only buying just the right amount of wet food for your dog, especially if they are new to wet toppers.
Is it safe to freeze wet dog food?
Yes, freezing wet dog food can lengthen its lifespan for up to 6 months or so. However, when storing, make sure that they are inside a special container, such as freezer bags.
There are going to be times when you need to store wet dog food for emergencies so this can be a helpful tip, especially when you live in an area where supermarkets and pet stores aren't always nearby.
Conclusion
Overall, having wet dog food to mix with dry dog food can be beneficial to both you and your dog. It brings a little bonding time to feed your pet with a healthy mix that you yourself made with love (or at least bought from the store and then mixed together).
Not only that, wet food has a better smell that usually helps with dogs that have their appetites dropped due to mood changes and other problems.