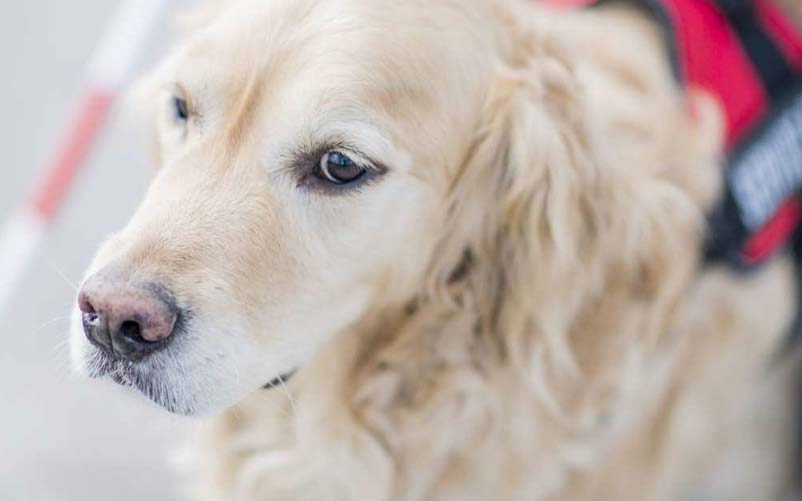 Many dogs tend to be anxious during, after, or even before a grooming session. This doesn't just happen to home grooming but also professionals.
Don't feel disappointed in your little friend because this is just a common phenomenon. All you need is just a clipper that produces less noise like the best quiet dog clippers below.
Best Quiet Dog Clippers
1. Wahl Pro Series Clipper – The Best Overall
With a long history since its foundation in 1919, Wahl has always been a leading company in the pet grooming industry. So it is not really a surprise when our top pick also comes from this brand.
Made in the USA, the Pro series has all the aspects of a premium choice, making it the first choice for casual or professional groomers alike.
Its heavy-duty motor is quite powerful but also impressively quiet. The cordless design also means you can utilize this power without the nuisance of tangled cables.
The Wahl Pro has an impressive run time, and probably also one of the best on the market – 120 minutes. This ensures a lot of grooming sessions with just a single charge.
While you may need up to 5 hours to get the Li-in battery to its full capacity, Wahl has equipped this clipper with the Quick Charging technology. This feature – which you can hardly find in other models – allows you to have enough power for some trimming with just 15 minutes of charging.
The Wahl Pro series also offers a bundle of tools for your dog: a cleaning brush, blade oil, scissors, a finishing comb, and 4 guide combs. The entire package comes with a great 5-year warranty, while Wahl also promises a 30-day satisfaction guarantee.
But this professional-grade clipper does have its own problems. Unlike some other wireless models, it can't work while you're plugging in the power cable. And some customers have also reported about the blades, which run hot in long sessions.
All things considered, if you are not on a budget and would like a heavy-duty yet quiet dog clipper, this is your best bet.
Pros
Heavy-duty, powerful motor
Operate quietly
Long run time (120 minutes)
Quick Charging feature
Self-sharpening blades
Great return and warranty policies
Cons
Expensive
Run hot
Have only wireless mode
2. oneisall Clipper Set – Runner-up
There are so many reasons this is our favorite quiet clipper: it is well-designed, reasonably-priced, includes various accessories, and of course, runs very quietly.
This model from oneisall has a rechargeable Li-ion battery with a charging cable included.
But it doesn't work exclusively in the cordless mode. You can also plug in the cable while doing the grooming as well. This solves a lot of concerns about the clipper running out of power, especially in a long grooming season.
But you can need more convenience, you can operate the oneisall clipper without the cable. But to take advantage of this feature, you need to charge it first, which may take up to 80 minutes for a full charge.
The blades of this oneisall clipper are detachable while the motor produces only around 50dB with its low-vibration design.
It's, of course, not as quiet as manual trimming with a pair of scissors, but when you put it side by side with other models on the market, this noise level is quite impressive.
oneisall includes blade oils, stainless steel combs and scissors, and 4 guard combs with sizes ranging from 3 to 12mm. All of them are offered with a one-year warranty.
The main issues with this quiet clipper are that it's a single-speed model and doesn't work as we expect on long coats. If this is the case with your dog, you should trim it manually with the included scissors first.
Pros
50dB operation
Well-priced
Detachable blades
Have both wireless and plug-in modes
Various accessories
Cons
Only one speed
Long charging time
Not the best choice for dogs with long hair
3. Ceenwes Clipper – Great-value Choice
This super-quiet clipper won't cost you a fortune while getting the job done pretty well. You can find even some high-end features without having to pay for a real premium model.
It's an all-in-one solution where you can find all tools you ever need for pet grooming: a nail file, a nail clipper, stainless steel combs and scissors, guide combs, and a cleaning brush. The contour-following guide combs are skin-friendly, making sure your friend has a comfortable, easy, and safe experience.
It provides both ceramic and titanium blades to ensure efficient and smooth cutting. In addition, you can adjust to five length options from 0.8 to 2mm with the fine-tuning knob.
The motor has a low-vibration and ultra-quiet design to help your anxious dog feel ease. In operation, the noise only reaches 60 at most. And Ceenwes seems to have solved a common problem in dog clippers that are running-hot blades.
But the Ceenwes clipper still has room for improvement. Sometimes it jams up, resulting in uneven cuts.
And while it takes up to 5 hours for a full charge, which is comparable to other premium models, the maximum run time only stops disappointingly at 70 minutes. And
Pros
Affordable
Ceramic and titanium blades
Quiet (60dB)
A wide range of tools included
Highly adjustable
Cons
Average run time
Long charging time
Prone to jams
4. Bousnic 2-Speed Dog Clipper – Longest Run Time
This dog clipper from Bousnic has a simple and elegant white design. It's also ergonomic enough to reach even the hardest areas of your pet.
Inside it is a 2200mAh Li-on battery that has an extraordinary run time – 3 hours for a full charge. This is quite an impressive feat from Bousnic that puts this model among the best cordless clippers when it comes to run time.
You can see the capacity left in the battery in order to know when the device is running out of power.
The Bousnic clipper is a 2-speed model with two modes: 6000 and 7000 RPM. No matter whether your dog has short or straight hair, these two options, and the ceramic blades will result in great grooming results.
The best part about the Bousnic clipper is its whisper-level noise and low vibration.
While many dogs get uneasy and stressed quickly by the vibration and sound of ordinary clippers, we believe this is not the case with this model. Your dog won't become uncomfortable and scared so that you can trim its coat much faster.
Like other clippers we have mentioned, the Bousnic clipper also includes multiple to help you in grooming: oil, stainless steel combs and scissors, a cleaning brush, and guide combs.
But there is an area that this model seems to not work well to our expectations – thick coats. And you may find the blades hard to assemble.
Overall, the 2-speed model from Bousnic is another decent consideration for a quiet clipper. It has a nice design, long run time, good warranty on top of a quiet motor.
Pros
2-speed model
Elegant design
Impressive run time
Lifetime warranty
Cons
Expensive
Not suitable for thick coats
5. Sminiker Professional Low Noise Clipper – The Low-Cost Option
Though the Sminiker brand is probably not as famous as others, we can't call their clippers "low-quality products" by any means. In fact, if you'd like to have a low-cost model for your dog, you'll be happy with the Sminiker Professional Low Noise.
It combines the ceramic blade with a titanium one to make sure you have an efficient cutting in the long-term. This titanium material prevents it from getting rusty, which means higher durability while still being sharp.
The best part for noise-sensitive dogs is that this blade combo produces less noise than the traditional stainless steel one. Most of the time, the noise level reaches only 50dB.
Contributing to this low-noise feature is also the low-vibration, ultra-quiet, precision motor. It helps get rid of unnecessary noise as much as possible so your dog can feel at ease while grooming.
But it seems that Sminiker has cut some corners in order to reduce the overall cost of the final product. Many customers have complained about the scissors, which they find too dull. And the clipper also seems to run slow and tends to get caught in thick coats.
Pros
Cheap
Combine titanium and ceramic blades
Quiet
Long run time
Cons
Dull scissors
Slow, easy to get caught in thick coats
How to Choose A Quiet Clipper for Your Dog
Owners of noise-sensitive dogs can find it hard to find a suitable clipper for their pets. This is not uncommon, and you can get past this problem by following some advice below.
Electric vs. Manual models
Besides the electric models we have talked about, there are always manual clippers for dogs on the market. Instead of using motors, you must do all the grooming manually.
They are way more silent than even the quietest electric models, thanks to the fact that they have no running parts. But on the flip side, trimming the fur of your dog with a manual clipper is extremely slow and takes a lot of time. That's why many people deem that it's not worth it at all.
Electric models these days have also improved a lot with more user-friendly features compared to previous products. While there is always some noise while trimming, most dogs seem to be fine with it over time.
Motor
A smooth-running motor is what makes a night and day difference in the noise level of a dog clipper. Customers usually think that a powerful motor is always better. But it's not true.
While a strong motor will help you cut quicker, even on dogs with thick, coarsest hair, it also has many side effects. Higher speed means the blades heat up faster, more vibrations, and ultimately louder noise.
That's why you don't need an overkill clipper. Just get a model that's powerful enough to go through the coats of your pet while producing minimal noise.
Size and Weight
A more compact and lighter dog clipper ensures better maneuverability, especially in hard-to-reach areas. This is even more vital if you need to groom multiple dogs often.
You and your dog will feel fewer vibrations from a lightweight clipper, which is a common issue of high-speed, powerful models. On top of that, an ergonomic model also helps you avoid other issues like wrist fatigue.
Blades
Ceramic blades heat up slower than the traditional stainless steel ones, making it a perfect choice for long grooming sessions. But usually, we can find them only in more expensive clippers.
A popular workaround is the hybrid model that combines a ceramic blade and a metal one. As a result, they have better, more efficient trimming while not increasing the cost too much.
Wrapping Up
If your dog still can't get familiar with the noise from traditional electric clippers, you can try any product from our list of best quiet dog clippers above.
They tend to be lighter, have quieter motors while still creating enough power to cut through the fur of your dog. It not only means your dog can finally feel at ease, but you also don't need to find a place outside anytime you need to groom her or him.