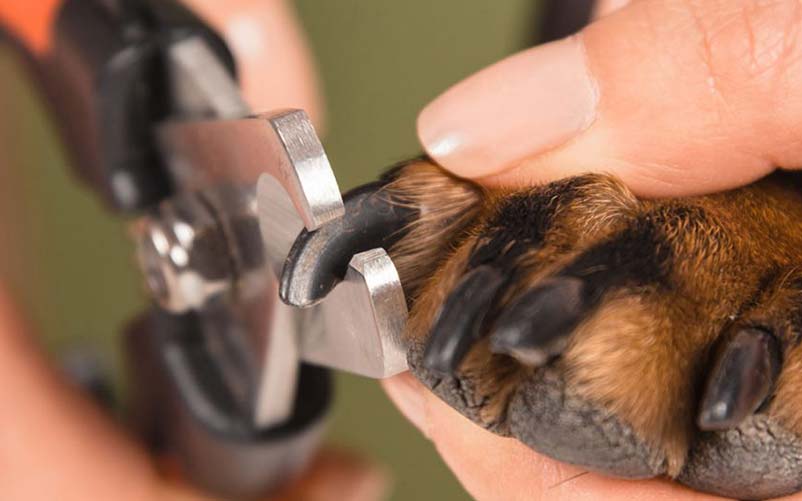 A large dog will need their nails done regularly, and instead of taking them to a groomer, you can do this right at home with a nail clipper.
But a random model for cats or small dogs won't work.
While it's undoubtedly hard to find a model that is strong enough for the thick nails of your big pet, it's not impossible. For example, you can have a look at these best large dog nail clippers.
Best Large Dog Nail Clippers
1. Epica Professional Pet Nail Clippers – The Best Overall
With a length of 6.5 inches, you can easily make a mistake and think of these Epica clippers as a pair of garden shears.
But thanks to exactly this huge size, it is an incredibly efficient tool to trim the nails of your large dog. Even if your pet has thick and big nails, you can cut them easily with minimal pressure.
Besides their strong and sharp blades, this product also offers other useful features.
For example, you can use the lock to hold the clippers in place while not using them. Don't worry; it's not difficult to latch or unlatch this lock at all. You won't need to bend your arm to force it into place like many poorly-designed locks.
This model has a solid build quality. We can't think of any circumstance you can bend the stainless steel blades. Epica also uses hard plastic to make the handles and equips them with a rubber grip.
Of course, after a few months or so, you will begin to see some signs of tear and wear in the blades. But as they are so strong and thick, they can still last much longer than other clippers on the market.
Given its durability and performance, the Epica Professional nail clippers are surprisingly affordable. You'll have a hard time finding a better product for your large dogs.
But remember that due to the size, you may find it hard to hold them, especially when you have small hands. And the tension spring opening the clippers is overly strong, so expect some resistance whenever you want to close them.
Pros
Work great with large dogs.
Durable
Sharp and strong blades
Well-priced
Cons
Cumbersome to hold for those with small hands
2. Safari Professional Nail Trimmers – The Runner-up
If you want an alternative at the same price range to the Epica clippers above, consider this product from Safari.
Like the Epica model, the Safari Professional trimmers also come with many helpful features. There is a built-in locking mechanism that helps you lock the clippers in place.
The blades are also sharp, cutting through thick nails with minimal effort required from you. There is no struggle with pressing the handles to have precise cuts. The trimming process will go as smoothly as you'd like.
But the real star of the Safari clippers that many customers love is the safety stop, which helps prevent you from cutting into the quick of your dogs. You can loosen the nut on the back to adjust it. But ensure that before cutting the nails, you have tightened it firmly in place.
We found that these Safari clippers are comfortable to use, in whichever way you want to hold them. The grip brings a decent level of cushion, keeping your hands from slipping. And with the tension spring, you don't need to open blades manually after each cut.
The price of the Safari Professional nail clippers don't tell the whole story about its durability. The safety stop and blades are all made from sturdy stainless steel, while the handles have non-slip grips.
But compared to the top pick, these clippers are smaller, so those with large hands might not be able to fit all their four fingers into the grip.
Pros
Comfortable to hold
Affordable
Sharp blades
Sturdy built
Cons
3. Millers Forge Nail Clippers – The Most Reliable Option
The Millers Forge clippers offer one of the best clipping abilities on the market.
The blades, which are made from high-grade steel, are very sharp and can withstand a great deal of abuse before becoming dull.
Millers Forge has optimized the shape of the handles so you can have a seamless and quick pass. This further increases the efficiency of each cut you do. There are built-in guards to prevent you from overcutting. The handles are long for ease of use and have plastic grips.
From the construction and materials, we can tell that Millers Forge has made durability one of their first priorities.
The handles can bear up against minor abrasions and scratches without a problem. And while the blades will begin to wear after a few months, you can always purchase a replacement at any time.
Unfortunately, the look is not a strong selling point of these great clippers from Millers Forge. It has a rather simple design, which may be a dealbreaker for those who love a more fancy styling.
Another issue is the price. They are not the most expensive nail clippers for large dogs on the market, but they aren't also cheap either. For owners who just want a quick trimming, this price is definitely not attractive.
Most models have a white or silver color scheme with a few coming with red or orange colors. Not only able to handle large dogs, but these clippers also come in other sizes for different breeds.
Pros
Sharp blades
Reliable and durable
Cons
Bland look
Slightly expensive than the top picks
Slippery handles
4. Boshel Dog Nail Clippers – The Best Premium Choice
These nail clippers are another attempt to make a product that just works, and this time around, it comes from a reputable brand in the pet care business – Boshel. It comes to no one's surprise that this model holds one of the best-selling products on Amazon.
These Boshel dog nail clippers have a user-friendly, modern design. This design is so popular that countless manufacturers have tried to rip it off in their products.
You can grip the handles easily, minimizing the chance that the clippers will slip away while trimming the nails of your dogs. Overcutting is also less likely to happen thanks to the presence of a safety stop.
While the impact spring is not big, it makes enough assisting force to relieve strain from your wrists and hands.
The sharp blades are made from high-grade 3.5-mm stainless steel. They are a powerful tool that can trim the nails of your dogs in one clean cut, helping your friend have a stress-free experience.
Boshel has also conveniently included a mini nail file at the end of one handle.
While the Boshell nail clippers are slightly more expensive than the Epica and Safari models above, it's not actually that big of a deal. In fact, many customers find the reputation of Boshell worth a few extra dollars.
Pros
High-quality, sharp blades
Produce clean cuts
Nail file included
Cons
Nail guard may prevent what you're doing.
The locking mechanism is not reliable
5. gonicc Dog Clipper – Great Value for Money
You can see where exactly gonicc has got the inspirations of the design from the first look. These clippers have almost the same look as the Boshell product above, but is it really a high-quality product or just a poor rip-off?
It seems that gonicc has done a pretty good job with its clippers as well.
The stainless steel used to make the blades have been treated by heat properly. The result is the sharp and nice blades, which have a brilliant shape to minimize the chance of crushing or overcutting nails of your dogs.
While the handles are pretty straight, they are long enough for most owners to hold and squeeze them properly.
Like the Boshel clippers, this product also offers an impact spring to reduce the strain in your hands in a long trimming session. On top of that, it comes with a safety stop and locking protection – features you usually find in quality dog nail clippers.
The handles use sticky, nice rubber to make holding a breeze. It is even equipped with a nail file, which is a common tool to touch up the edges of the nails after cutting.
But like us, you might also find something missing. We wish gonicc would have provided grooved or serrated rubber handles to make gripping even easier.
While this is another outsourced product, the build quality is actually acceptable. Unless you put it under some heavy-duty tasks that are not what it's designed for, these clippers can last long enough without cracking or warping.
Pros
Affordable
Nail file included
Acceptable durability
Cons
6. GoPets Nail Clipper – Best Safety Features
This is another model that also enjoys enormous positive reviews from customers.
The GoPets nail clippers have two sizes: large and small. You can only even trim the nails of your large dogs but also use the small version for your cats too.
These nail clippers from GoPets provide a nail file that can be stored inside a handle. They are ergonomically designed with black and orange color. This helps set them apart from other competitors on the market.
But their strongest selling-point is the Quick Sensor safety guard, which helps prevent any overcutting. At the same time, the large non-slip handles are comfortable to hold, providing big leverage for quick, effortless cuts.
But keep in mind that many customers have complained about the lock, which is unreliable sometimes. This may make you frustrated when it comes off after every cut – another nuisance when it's hard enough to keep your large dog calm while trimming.
Pros
Useful quick guard
Have extra angled-blades for small dogs and cats
Cons
What to Consider When Buying Nail Clippers for Large Dogs
Style
When buying a nail clipper for your dogs, get a design that you feel it's the most comfortable to grip and cut the nails.
There are mainly three styles of dog nail clippers: plier, scissor, and guillotine, each with its own strengths and drawbacks.
Plier
This is the most popular style for large dogs, which also resembles a pair of scissors. But these clippers are usually bigger and have an assisting spring to open the blades after each cut. They are often equipped with a locking mechanism to help keep the blades securely in place and easy for storage.
Pros
Durable
Suitable for large dogs
Can cut through tough, thick, and large nails pretty well
Cons
Bulky
Need more effort from you
Scissor
You may find nail clippers with this style in plenty of products on Amazon. They tend to work well only for cats or small dogs.They look like a pair of scissors, but each blade has a cutout for the nails.
Pros
Cons
Not work well for large nails
Guillotine
This style also won't go well with the nails of your large dogs. They work exactly like a guillotine: there is a hole you can place the nail on and another blade that cut through it. This blade is often replaceable.
Pros
Have sharp, clean cuts
Replaceable blade
Cons
Trickier to use
Not for large breeds
Conclusion: As you can see, the only one that can work for large dogs is the plier-style clippers. They are bulkier, slightly harder to use, but also strong enough to cut through thick nails.
Safety Features
Dog nail clippers with the plier style have many safety features built-in. Some users find them beneficial, while others see them as unnecessary features.
For example, the nail guards can prevent you from shoving the nails too much and overcutting them. But it's not perfect and, in many cases, also prevents you from seeing what you are doing.
Comfort
When you have a small or medium dog, the grip and comfort is often not a big concern when it comes to nail clippers. But the story is different if you own a large dog.
Manufacturers try to solve this problem with rubber grips or slick handles with an ergonomic shape.
The most important thing is they don't work for everyone. To see if you feel comfortable holding a nail clipper, you must try it in your hand. There is no point in having sharp blades while they can strain your hands whenever your dog needs to get the nails done.
Conclusion
All the best large dog nail clippers above have durable and sharp blades – the most important feature that helps go through thick nails.
But in order to make sure you don't have any trouble, they often have many safety and comfort features as well. Some may like them, some may not. But overall, you will still have an easy time when taking care of your dog compared to other poorly-made clippers.