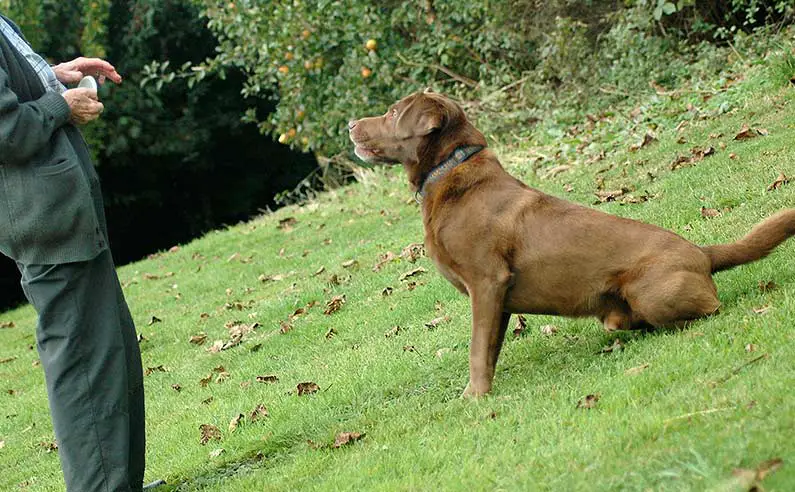 Not all of use can magically transform our dogs into a well-behaved, peace-loving, and obedient canine. But dog trainers and so-called handlers or behaviorists are often expensive and out of the question.
However, there are many alternative methods we can use to teach ourselves without paying through the nose.
For example, these best dog training books provide fun, detailed, and simple-to-follow techniques and advice so you can have a better understanding of how to train your dog. But before diving into each book, we must know what you can benefit first.
How To Start Finding A Training Book for Dogs
Before going to a local bookstore or browsing thousands of books on Amazon, you need to understand two things first, which will help you become a better trainer and above all, a better friend with your dogs.
First, you have to know why reading books can help you with training, what a good book can do, and what you can learn from it. After fully appreciating the importance of them, then you must find out what to consider in a dog training book.
What you can benefit from a training book
Books provide best practices recommended by experts
Whether your goal is to make your dog follow a simple command, to teach him or her some tricks, or to manage behaviors that go out of control, there are always a lot of titles from various authors to cover it.
You can learn what the commonly used methods in dog training are, what can work and what can't. This is especially useful for beginners who have absolutely no idea about training a dog. They can save time and quickly narrow down to popular methods and techniques that are suitable for their dogs.
Most authors don't just talk about common knowledge but also share tips and tricks that only they know.
But we also must warn you: always take these books with a grain of salt. They are highly relative. Sometimes they work, and sometimes they don't. So don't be surprised or confused when your dog doesn't learn much, even from an incredibly popular method.
You can learn things from different perspectives
And the best part of reading those books is that you can access wonderful insights in each particular issue from real training experts. Not just one or two, but plenty of them. They do not always share the same opinions, and that is fine. The more perspectives, the better.
When you hire a trainer, you will be under the influence of his opinions and methods. On the other hand, if you can freely read books from various authors, you can get a bigger picture, compare many different methods in any canine issue.
Since you are not limited to only one method, you can see the recurring themes in their methodologies, principles, and training philosophies. At the end of the day, you can form your own opinions, create your own perspective, and decide what to do with your dog.
Books are cheaper
Not everyone has the luxury of hiring a professional trainer for dogs. But thanks to books, you teach yourself the practices, the knowledge, and various recommendations that experts and trainers have. With just a few dollars, you can get to read those pieces of advice in their own words.
You can focus on a single issue at a time
Training a dog is about perseverance and patience.
Dogs are intelligent and sociable animals, but they still have many things different from humans from a cognitive perspective. So it's natural that you don't get familiar with them quickly or get them to do what you want immediately.
Our memory is so great that we can recall something that happened a long time ago. But dogs are not like that. They don't have such a skill but instead operate with a short-term memory principle.
They can learn what you point at them quickly. This is why timing is important in dog training because you don't want your dog to associate that behavior with another thing.
Books can help you with this.
You can learn how to focus your dog on just one aspect until she or he masters it. Professional dog trainers do this too, but now with a detailed book, you can get this done by yourself at home.
You can do everything at your own pace
At the end of the day, you are in total control of your training sessions. You can decide when and where you can practice a new method without waiting for the approval of someone else.
A training book gives you a chance to read (and re-reach) every trick, theory, and principle until you're fully comfortable and understand what they mean.
This is a stark difference compared to a trainer who will tell you everything you need to do before you forget after a few hours. You can't ask your trainer to repeat everything he has ever said, but you can always find something again in a book.
Things to consider
Buying a training book for dogs is totally different from picking a novel. There are fewer authors who write in this specific genre, and usually, you also know you can expect from them.
Nevertheless, you still need to give thoughts to these factors of a book.
Author's credibility and reputation
High-skilled trainers are in a class of their own. Most of them just offer training services and don't write and publish books.
But by saying that, we don't mean you can find a book from someone you can trust with their knowledge and skills.
Look at the profile of authors and see what they have done that is related to dog training. A well-known trainer should always be preferred over a random name.
Goal
Each book is intended for a different kind of reader. Some cover everything in general, while many focus only on a specific training method.
A newcomer to dog training should opt for an "introduction" book as it will help give you a solid background and get a good grasp on it. There are even kid's versions of it that are a great choice if you want to let your child have an opportunity to play with and command a dog.
After that, you can start to dive in and figure out what you need to learn more in-depth. There are more methods and areas in dog training that you might think. That's why clarifying your purpose is always good when buying a dog training book.
Ease of reading
Dog experts and vets often use a lot of terms that a beginner or casual dog owner has never heard of before. This is totally fine. You can always get to know the meaning of them along the process.
While educational and informative training books can benefit you a lot, we believe that they should always be fun and entertaining, especially with a lot of images, pictures, and illustrations. The whole point of these books is to make learning and accessing new knowledge easier.
Best Dog Training Books
Zak George's Dog Training Revolution – Best Overall
While most dog training books only focus on certain aspects such as agile or clicker training, "Dog Training Revolution" takes a different approach. It aims to provide all essential knowledge that a dog owner and trainer must know.
This book is from Zak George – one of the most well-known dog trainers in the world. You may already know via his Youtube channel and other shows where he supports positive reinforcement training methods.
In this book, he shows a fresh take on raising a perfect dog without physical aversion. You will be introduced to everything, from choosing the right dog for yourself, engaging it in obedience training, and managing some behavioral issues such as aggression, biting, chewing, leash pulling, jumping up, and barking.
"Dog Training Revolution" is not really a technical training book. Instead, it is more of a how-to one.
Since it touches on every topic, newcomers will feel less confusing when encountering an issue with their dogs. And even a veteran can benefit from it where you have a look at your problem in conjunction with everything else.
Pros
From a popular and trusted expert
Great for beginners
Detailed
Cover almost every aspect
Cons
Not a technique-heavy book
Only talk about each topic slightly'
The Art of Raising a Puppy – Best For Training Puppies
From now on, we're going to talk mainly to books that focus on a specific topic and purpose. For example, if your main concern right now is your puppy and how about raising it with obedience, "The Art of Raising a Puppy" from the Monks of New Skete is our recommendation.
In this best-selling book, they share their knowledge of dog training, behaviors, health, and relationship between men and dogs from their 30-year experience in an uncanny fashion.
Getting a new puppy is surely an exciting thing, but this means a lot of both moments of joy and lost sleep. The future of your dog depends a lot on how it grows right in the first few months.
The Monks of New Skete fills this 352-page book with expertise about caring, loving, and training a puppy in every stage of her or his life. It will help her or him adjust to a new home.
Written in an entertaining and fun way, this book is the first thing you must read about puppyhood.
Pros
Trusted author
Fun and entertaining
Cons
Written for dominance training (not for everyone)
Some advice is outdated
101 Dog Tricks – For Trick Training
Now if you have completed basic training, it's time for your dog to get the hang of something more advanced.
Teaching tricks will keep your dog engaged and mentally sharp. Don't we all want our little friend to know how to use remote control, get food, or even open the door?
Let us introduce "101 Dog Tricks: Step by Step Activities to Engage, Challenge, and Bond with Your Dog" – one of the most popular books when it comes to tricks for dogs. With the help of this book, you can make your dog perform many tricks that can make other owners admired.
Full of colorful and easy-to-follow guides, this book puts tricks into many difficulty levels so you can see whether your dog can handle them. This includes basic skills like staying, fetching, and sitting, or more complicated tricks like getting a drink from your fridge.
Through fun and unique activities, you can strengthen the bond between you and your dog while keeping her or him engaged and obedient.
Pros
Colored-guides with pictures
Include many levels
Cons
Missing steps
Need a highly motivated and active dog
Lucky Dog Lessons: Train Your Dog in 7 Days – Quick Training
Sometimes you only need some fundamental commands in a short period of time instead of advanced stuff. This book is intended for this exact purpose. "Lucky Dog Lessons" is a valuable resource that can offer simple methods and commands that your dog can master in only a week.
This is also why the author – Brandon McMillan – has written in an easy-to-follow and straightforward manner that won't take up much time and effort from you. It's full of images and illustrations to express the steps to teach the most common commands: HEEL, OFF, NO, COME, DOWN, STAY, and SIT.
This book is a great choice if you don't have much time but want to build focus, control, and trust between you and your dogs.
Pros
Great for a quick training with basic commands
Simple, easy-to-follow steps
Full of images and illustrations
Cons
The Beginner's Guide to Dog Agility – Agility Training
Laurie Leach, who is an agility competitor on the national level and has spoken at numerous dog-related events, has written a book drawn from her own experience. It's a great book to start if you find agility training interesting.
Agility competitions can create fun opportunities for you and your dogs to enhance your bonding. This book requires no experience except basic dog training. You can explore everything, from creating agility obstacles to learning the ins and outs of this hobby.
"The Beginner's Guide to Dog Agility" is an informative book with so many details that can put off most unmotivated dog owners. But if you are serious about this kind of activity, or just want to wear your dog out without going to the dog park, you will have a hard time finding a better alternative.
Pros
An excellent resource for beginners
Also good for training in general
Cons
Only basic information, not enough for competitions
Conclusion
Books are always one of the best ways to obtain knowledge, and the best dog training books above are no exception. Full of pictures and easy-to-follow steps, we believe you will be confident to assume the role of the parent and trainer of your beloved dog.